You are in my thoughts.  Hoping this finds you safe, healthy and navigating the rapids of change.
We can and will get through this together!
In an effort to serve my clients across the country, for a limited time, I am offering the following Three New Methodologies and Approaches:
1) "Tailored Webinars" (Interactive 30-90 minutes)
>Working from Home 101 (Balancing Work and Home Effectively)
>Freedom from Fear (Navigating the Rapids of Change)
>It's About TIME (How to Get the Right Things Done In Less Time!)
>Sales Strategies of Superstars (How to Enjoy a 75% Close Ratio!)
>The 10 Commandments of the Most Effective Managers
>Presenting Like a Pro (Speak with Confidence and Influence)
>Customer Service Excellence (Soft Skills Transfer to Keep More Business and Delight Your Customers!)
>Team and Trust Building (How to Improve Morale & Productivity
2) Individual Private Coaching (One Off or Monthly) – The 1st Hour is FREE!  Simply call or text me at 206.697.0454. 
3)  For a limited time:
You can have these two companion books that have inspired hundreds of thousands of people around the world to manifest their potential, achieve their goals, increase their profits, improve relationships and enjoy peace of mind.  These two books will change your life and the lives of the people you love.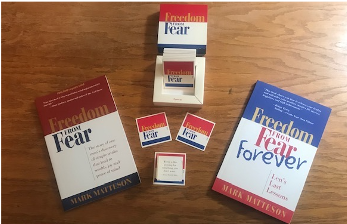 Simply order how many copies you would like for your team (i.e., 10 copies of "Freedom from Fear" and I will add to your order the companion book "Freedom from Fear FOREVER" and a box of my award winning
"Window Cards" – 30 different quotes designed to give you hope, inspiration and courage). Oh yes, I will sign both books.  Order yours today!
Simply go to www.sparkingsuccess.net/store and order.
Quantities are limited.
"Setbacks are opportunities for comebacks!"
Let's choose Peace over Panic; Faith over Fear; Wisdom over Worry,     Determination over Doubt, Prayer over Pity, Helping over Hoarding!  Stretching over Shrinking! 
Feel free to call or email anytime.  I'm here if I can help in any way.
Stay safe…Mark Matteson